WiFi Xively Humidity/Temperature Sensor with Display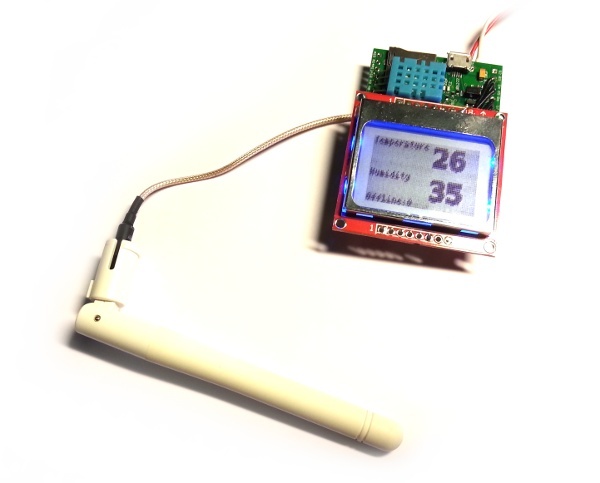 This is a Wireless Humidity/Temperature sensor that displays information as well as uploading it to Xively. For more information on using Xively or other services see the IoT Services page.
To set this up:
Head over to Xively
Get an account
Create a new 'Public Device'
Create two channels on the device, humidity, and temperature
Copy the API key and the Feed ID and replace the placeholders in the code below with them.
Replace the placeholders for your WiFi access point name and key
Then all you have to do is copy the code to Espruino and type onInit() to start it off, or type save() to save it so that it runs automatically each time Espruino powers on.
Wiring
The CC3000, PCD8544 and DHT11 have been arranged such that that can all be soldered onto the board.
CC3000 connected as described on that page. An external aerial has been soldered on to increase the range.
PCD8544 LCD connected as follows:
| LCD pin | Pin type | Example pin on Espruino Board |
| --- | --- | --- |
| GND | GND | GND |
| LIGHT | Any | A3 |
| VCC | 3.3v | 3.3 |
| CLK | SPI SCK | A5 |
| DIN | SPI MOSI | A7 |
| DC | Any | A6 |
| CE | Any | B0 |
| RST | Any | B1 |
Note: This can be done with a single piece of pin strip (with the DIN/DC pins bent so that they swap location). See the Soldering an LCD directly to Espruino page.
DHT11 connected:
| Device Pin | Espruino |
| --- | --- |
| 1 (Vcc) | A10 |
| 2 (S) | A9 |
| 3 (NC) | A8 |
| 4 (GND) | C11 |
Source Code
var g;
var wlan;
var dht;
var interval;
var ticksSinceConnect = 0;

function onInit() {
  // DHT11
  A10.write(1); // VCC for DHT11
  // A8 is NC
  C11.write(0); // GND for DHT11
  dht = require("DHT11").connect(A9);
  // LCD
  A3.reset(); // light
  SPI1.setup({ baud: 1000000, sck:A5, mosi:A7 });
  g = require("PCD8544").connect(SPI1,A6,B0,B1, function() {
    g.clear();
    g.drawString("Connecting....",5,20);
    g.flip();
  });
  // WiFi
  setTimeout(function() {
    wlan = require("CC3000").connect();
    g.clear();
    g.drawString("DHCP....",5,20);
    g.flip();
    wlan.connect( "YOUR_WIFI_NAME", "YOUR_WIFI_KEY", function (s) {
      if (s=="dhcp") {
        g.clear();
        g.drawString("DHCP Complete.",5,20);
        g.flip();

        if (interval!==undefined)
          clearInterval(interval);
        interval = setInterval(onTimer, 10000);
      }
    });
  }, 500);
}

function putXively(a) {
    content = JSON.stringify({
     version : "1.0.0",
     datastreams : [
       { id:"humidity", current_value: a.rh.toString() },
       { id:"temperature", current_value: a.temp.toString() }]
    });
    var options = {
      host: 'api.xively.com',
      port: '80',
      path:'/v2/feeds/YOUR_FEED_ID',
      method:'PUT',
      headers: { "X-ApiKey":"YOUR_API_KEY", "Content-Length":content.length }
    };
    var req = require("http").request(options, function(res)  {
      res.on('data', function(data) {
        console.log("-->"+data);
      });
      res.on('close', function(data) {
        console.log("==> Closed.");
        ticksSinceConnect = 0;
      });
     });
    req.end(content);
}


function onTimer() {
  dht.read(function (a) {
    g.clear();
    g.setFontBitmap();
    g.drawString("Temperature",1,0);
    g.drawString("Humidity",1,24);
    g.drawString("Offline:"+ticksSinceConnect,1,42);
    g.setFontVector(15);
    g.drawString(a.temp,48,0);
    g.drawString(a.rh,48,24);
    g.flip();

    putXively(a);
    ticksSinceConnect++;
  });
}

onInit();